Natural water stones from Kyoto 3
Beautiful Ao Renge Suita from Mt. Ohira!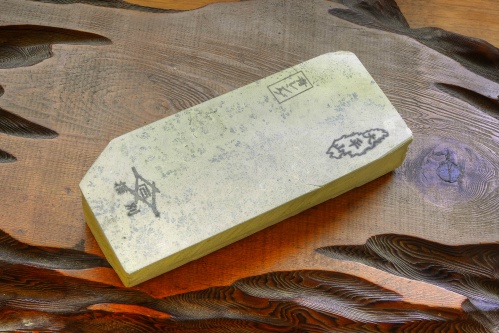 This is visionary rare stone, Ao Renge Suita from Mt. Ohira. This is finishing stone of some samurai sword makers. It is harder than other stones in Ohira. You can get mirror and the sharpest edge. They are beautiful light green color. You never get this color from other mountains. Ao-Renge is only from Mt. Ohira around the world.
The mine was a territory of government from long time ago (from 1190 in Kamakura period). Because to have mine of sharpening stone is the most important for getting fine quality Samurai sword which is the greatest weapon of those days. It was a power of armaments. General people never been able to get fine quality stones.
Now I often visit the mine in Mt. Ohira. But with that in mind, the mine was already closed. You should get them as soon as possible, if you want. I put from beautiful pieces on my page.
Ao renge is too difficult to use for beginner. I recommend beginner starts from softer stones.
#1 Ao Renge suita, Ohira-yama in Kyoto.

Size 32 x 72 x 174mm. Weight 1,195g. Finest finishing stone. Hardness: HS70.
Shin's comment
Price: JPY90,000

SOLD OUT
#2 Ao Renge suita, Ohira-yama in Kyoto.

Size 25 x 80 x 170mm. Weight 880g. Finest finishing stone, 4.31μm. Hardness: HS69.
Shin's comment
Price: JPY50,000

SLOD OUT
Natural stones give some miracle results for blades comparing artificial stones. Sharpness, edge retention, rust resistance and beautiful Hamon. Also the tastes of the cut food are changed. We had some tests with a science company.
Here is the cucumber test. Photo1 , Photo2