Western handle knives by Shinichi Watanabe
The primary general-utility knife for most western cooks!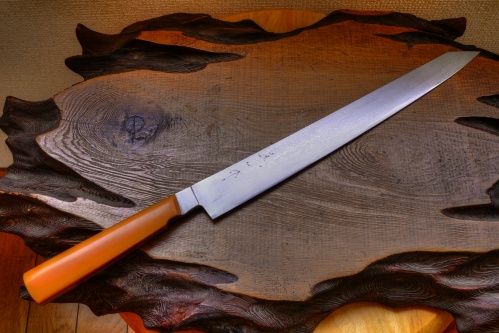 Gyuto is a chef's knife, also known as a French knife, a cook's knife or German-style knife, is a cutting tool used in food preparation. It is the primary general-utility knife for most western cooks. These Gyuto knives are made of Japanese traditional hand forged blades with custom western handles. You can use them as a multi-purpose knife designed to perform well at many differing kitchen tasks, rather than excelling at any one in particular. It can be used for mincing, slicing, and chopping vegetables, slicing meat, and disjointing large cuts.
They are limited version. The hardness of these blades is between HRC 63 to 65. The core steel is blue steel. You have to clean after using. But the steel part is appeared only 3mm wide from the covered outer layer. The outer layer and the handle tongue are made of stainless, and some handles are made of Micarta. They have rust resistance. The Gyuto is very good even for steel beginners.
I add some variety kinds of western handle knives now.