Ikarashi medium fine natural stones
The medium fine grit of natural stone!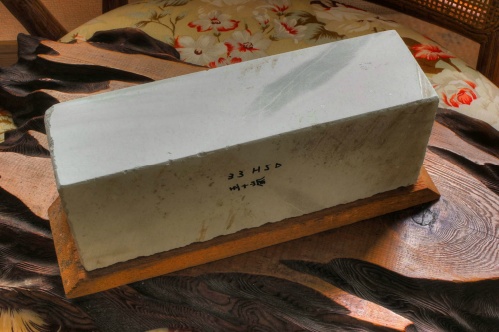 Ikarashi is medium fine grit stone of natural stone from my city Sanjo. The mesh is so variety, because of natural stone. But it is about #2000. Softer Ikarashi is useful. Harder Ikarashi is finer.
If you want shaping power, you may choice AI#1000. If you want beautiful surface, AI#2000 is better. Hard Ikarashi is difficult stone for beginner. The key point is to make slurry. You may use AI-Diamond as Nagura stone. You have to sharpen Jigane, not only edge. The black slurry from Jigane is important.
All Ikarashi stones switch to light emerald green with water. Very mystery stone.
The mine is already closed. I have many, but they are very rare. You may get the best one, as soon as possible. Now, it is the chance to catch marvelous collectors item!