Some different shapes of petite and variety kinds of knives.
You find your knife. Original limited knives!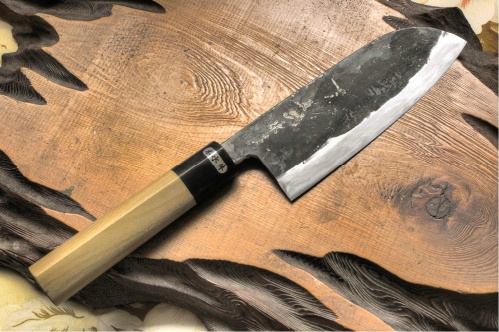 These are several different blade lengths and shapes which are limited models having unique finishes and handles. These blades have tapered spine for well balance. The edges are very thin for paring. I hope you find your knife.
#1 Kurouchi Santoku knife 145mm: 125SC

Total length 290mm, blade 145mm, width 51mm, thickness 3.6mm, double bevel, material 125SC.
D-shaped Ho wood handle with horn hilt.
Shin's comment
Price: JPY30,000

SOLD OUT
#2 Uribo Damascus Gabi Mukimono knife 135mm: 125SC.

Total length 260mm, blade 135mm, width 40mm, thickness 3.1-1.6mm, double bevel, material 125SC.
D-shaped ebony wood handle with brown horn hilt.
Extra pictures A
Shin's comment
Price:

JPY97,000

In stock
#3 Kurouchi Kintaro-ame Gyuto knife 195mm: Ho wood.

Total length 345mm, blade 195mm, width 48mm, thickness 4.1-2.0mm, weight 170g, double bevel, material Iron clad Kintaro-ame white #2
D-shaped Ho wood handle with horn hilt.
Shin's comment
Price:

JPY61,600

In stock
#4 Gabi Gyuto knife 180mm: Pointer tip and thick

Total length 320mm, blade 180mm, width 48mm, thickness 3.7mm, double bevel, material 125SC.
D-shaped chestnut wood handle with horn hilt.
Price: JPY50,000

SOLD OUT
#5 Kurouchi paring knife 90mm: Antique turquoise oiled.

Total length 210mm, blade 90mm, width 21mm, thickness 1.8mm, double bevel, material iron clad white #1.
Antique turquoise oiled Ho wood handle with SUS hilt.
Shin's comment
Price:

JPY16,000

4 pcs in stock
#6 Kurouchi Gyuto knife 180mm: stripe ebony.

Total length 323mm, blade 180mm, width 46mm, thickness 4.0-1.6mm, double bevel, material stainless clad blue #2.
Western shaped shima ebony wood handle.
Extra pictures A
Shin's comment
Price:

JPY50,000

In stock
#7 Kurouchi Santoku knife 165mm: ebony western handle with Keyaki hilt.

Total length 310mm, blade 165mm, width 53mm, thickness 5.0-1.4mm, double bevel, material iron clad white #2.
western shaped ebony wood handle with Keyaki wood hilt.
Shin's comment
Price:

JPY46,000

In stock
#8 Stainless Kintaroame Gabi petite knife 180mm: VG10.

Total length 320mm, blade 180mm, width 36mm, thickness 2.3mm, double bevel, material Stainless clad Kintaroame VG10.
Octagonal shaped Keyaki wood handle with horn hilt.
Shin's comment
Price:

JPY60,000

In stock
#9 Kurouchi paring knife 90mm: Ho.

Total length 210mm, blade 90mm, width 21mm, thickness 1.8mm, double bevel, material iron clad white #1.
Ho wood handle with SUS hilt.
Shin's comment
Price: JPY15,000

SOLD OUT
#10 Kurouchi Nakkiri knife 180mm: Ebony.

Total length 320mm, blade 180mm, width 59mm, thickness 4.3-1.6mm, double bevel, material stainless clad blue #2.
flat D-shaped ebony wood handle with white Dupont Corian hilt.
Shin's comment
Price: JPY54,000

SOLD OUT
#11 Kurouchi Kintaroame petite 120mm: VG10

Total length 251mm, blade 120mm, width 30mm, thickness 2mm, weight 55g, double bevel, material Kurouchi Kintaroame stainless clad VG10 stainless steel.
Oval shaped chestnut wood handle with horn hilt.
Extra pictures A
Shin's comment
Price:

JPY18,000

3 pcs in stock
#12 Kintaroame Gyuto knife 180mm: Antique turquoise oiled.

Total length 326mm, blade 180mm, width 45mm, thickness 1.8mm, double bevel, material iron clad Kintaroame white #2.
Antique turquoise oiled Ho wood western handle with SUS hilt.
Extra pictures A
Shin's comment
Price: JPY50,600

SOLD OUT
#13 Kurouchi Kintaroame Nakkiri knife 210mm: teak.

Total length 375mm, blade 210mm, width 62mm, thickness 4-1.8mm, double bevel, material iron clad Kintaroame white #2.
Octagonal shaped teak wood handle with brass ring, rose and ebony hilt.
Extra pictures A
Shin's comment
Price: JPY99,200

SOLD OUT
#14 Gyuto knife 180mm: walnut.

Total length 320mm, blade 180mm, width 46mm, thickness 3.8-1.3mm, double bevel, material stainless clad blue #2.
Octagonal shaped walnut handle with red dyed maple hilt.
Shin's comment
Price:

JPY48,000

In stock
#15 Kintaroame paring knife 90mm: Kintaroame white.

Total length 210mm, blade 90mm, width 21mm, thickness 1.8mm, double bevel, material iron clad Kintaroame white #2.
Stain oiled Ho wood western handle with SUS hilt.
Extra pictures A
Shin's comment
Price:

JPY39,600

2 pcs in stock
#16 Gyuto knife 210mm: dyed maple.

Total length 360mm, blade 210mm, width 49mm, thickness 4.8-2.0mm, double bevel, material Stainless clad blue #2.
Octagonal shaped red, purple, green and brown dyed maple wood handle with 3 brass rings.
Shin's comment
Price:

JPY76,000

In stock
#17 Kintaroame Petite knife 130mm: Kintaroame white.

Total length 260mm, blade 130mm, width 27mm, thickness 2.4-1.2mm, double bevel, material iron clad Kintaroame white #2.
D-shaped Ho wood handle with horn hilt.
Extra pictures A
Shin's comment
Price:

JPY41,800

In stock
#18 Honyaki Gyuto knife 300mm: Slight thicker customized.

Total length 468mm, blade 300mm, width 61mm, thickness 5.8-2.2mm, weight 400g, double bevel, material Blue #2 Honyaki.
D-shaped Ho wood handle with horn hilt.
Shin's comment
Price: JPY123,900

SOLD OUT
#19 Kurouchi Bunka knife 145mm: Ho.

Total length 285mm, blade 145mm, width 47mm, thickness 5.5-1.5mm, double bevel, material iron clad white #2.
D-shaped Ho wood handle with horn hilt.
Shin's comment
Price: JPY21,500

SOLD OUT
#20 Kurouchi Bunka knife 170mm: Ho.

Total length 310mm, blade 170mm, width 47mm, thickness 5.3-1.5mm, double bevel, material iron clad white #2.
D-shaped Ho wood handle with horn hilt.
Shin's comment
Price: JPY25,500

SOLD OUT
#21 Gyuto knife 180mm: Antique turquoise oiled.

Total length 325mm, blade 180mm, width 46mm, thickness 4-1.6mm, double bevel, material stainless clad blue #2.
Antique turquoise oiled Ho wood western handle with SUS hilt.
Shin's comment
Price:

JPY50,000

In stock
#22 Gyuto knife 180mm: Polished blade.

Total length 320mm, blade 180mm, width 46mm, thickness 4-1.6mm, double bevel, material stainless clad blue #2.
Octagonal shaped walnut wood handle with brown dyed maple hilt.
Shin's comment
Price:

JPY47,000

In stock
#23 Nakkiri knife 165mm: SLD.

Total length 300mm, blade 165mm, width 54mm, thickness 3.7-1.5mm, double bevel, material stainless clad SLD.
Octagonal shaped Enju wood handle with horn hilt.
Shin's comment
Price:

JPY42,000

In stock