Natural water stones from Kyoto 6
Legend stone Uchigumori! You can get high contrast on Jigane and Hagane.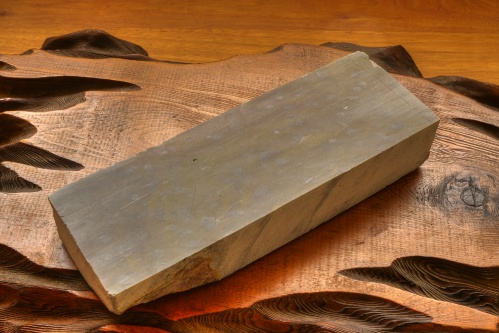 Uchigumori stone is the final stone for sharpening work. You can get beautiful looking and sharp edge.
There are Hazuya and Jizuya stones from Mt. Ohira and Mizukihara.
Hazuya: For steel core. Also called Habiki or Hato. Light gray color and soft. A little bit easier to use than Jibiki. You can get beautiful blur on your edge and Hamon quicker.
Jizuya: For iron layer. Also called Jibiki or Jito. Dark gray color, a little bit harder, heavier and finer grain than Hazuya. You can produce a bright, black bottom on the soft layer. Jizuya is a rarer stone.
According to my own experience, these differences in Uchigumori stones are very small. Since these are natural stones, it can be difficult to distinguish between them because of natural variation in a particular stone. For the beginner I would recommend the Hazuya.
Normally, Uchigumori stones are supplied at rough chiseled surface, not flatten or polished. The stones are left unfinished because Samurai sword makers prefer to shape the stone surface themselves for their particular application like semi-cylindrical, not flat. If you would like the stone flattened like standard stones, I can do that for an additional fee. We call this chipped surface Hatsuri skin.