Natural water stones 7
Very hard stones: Fine stone for natural mirror edge.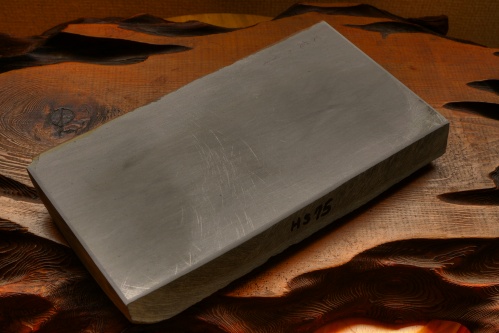 These are very hard stones. To put the grain number of natural stone is difficult. Because the grain become smaller and smaller during sharpening. This thing is the miracle and the biggest difference to synthetic stone. However harder stones have finer grains. So you can think that normal Awasedo start from #6000 grain, on the other hand these hard stones start from #8000 grain. With that in mind, these grains change smaller to #10000, #20000, #30000 or finer when you spend much time.
This is the finest sharpening process. You must use fresh water. The water at rough sharpening scratches the edge. During sharpening, you have to be careful about sound, looking and feeling. As soon as you found sand or scratching, you must stop sharpening and wash the stone with fresh water. Natural stones include impure grain. It sometimes cause this problem. The impure grain in hard stone is also very hard so it notably scratches the fine polished surface.
These stones don't have strong shaping power, so I don't recommend for beginner. When you use Nagura stone, it will be a little bit useful.
You get white gray Hamon. The edge is natural mirror and very sharp.
The hardness more than HS55 is too difficult to use for beginner. I recommend beginner starts from softer stones.
Natural stones give some miracle results for blades comparing artificial stones. Sharpness, edge retention, rust resistance and beautiful Hamon. Also the tastes of the cut food are changed. We had some tests with a science company.
Here is the cucumber test. Photo1 , Photo2