---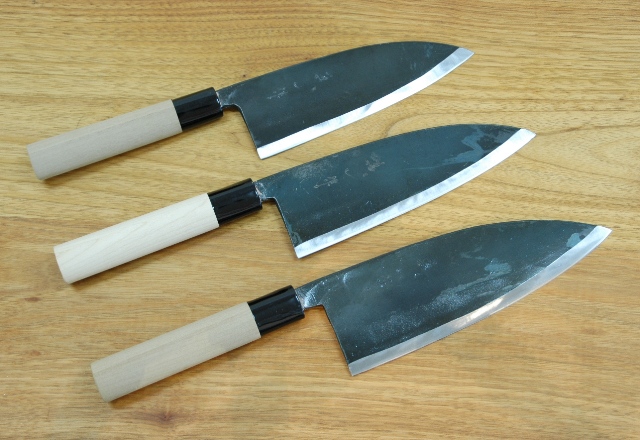 Thin Deba knives
Click the photo!

These knives are usually for cutting salmon with fishery men. They are thin and rough, but tough. So it's good for hard working like fishery. It is called Kakou Deba or Sakekiri Deba.
You can use these knives like Santoku of single bevel. It is big, however light! The hardness is HRC60 - 62.


-Kurouchi Sakekiri Deba-
Material: white steel Handle: Ho wood

Blade: 150mm Thickness: 3mm Width: 50mm Total length: 290mm JPY8,000

Blade: 165mm Thickness: 3mm Width: 55mm Total length: 300mm JPY10,000


Lefted Kurouchi Sakekiri Deba 150mm white JPY12,000
Lefted Kurouchi Sakekiri Deba 165mm white JPY14,000
Lefted Kurouchi Sakekiri Deba 180mm white, 180g weight, JPY16,000

In stock now!

Shipping your charge (Shipped Internationally)




---
Copyright (C) Watanabe Blade. All Rights Reserved.