How To Sharpen Knives Like A Professional #3
Kitchen knife, machete...
watanabeblade.com
ŠThe other knives

Special | Standard | Professional
---
Blade Of Mechanism: How Is It Cut?
There are several kinds of blades, including kitchen knives. Hoes always plow sands and small stones, sickles mow tough weeds like reeds and wood sorrel oxalis and knives cut strong ropes and woods. Every edge must be worn down even any wonderful products. No matter what kind of blade you have to re-sharpen it. Blade should be sharpened at regular intervals.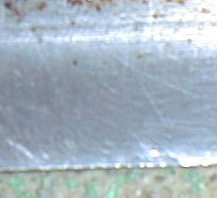 There is a different sharpening method for each blades. To sharpen a Samurai sword, for example, you must use about 15 grades of water stones, however you don't have to do that to sharpen kitchen knives. It is good to sharpen most kitchen knives using 2 grades of water stones(rough and medium fine). If you sharpen hoes and shovels, it's best to use a file instead of water stones.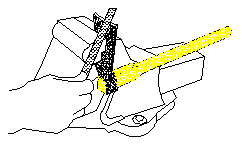 As mentioned in the last section, Japanese kitchen knives are sharpened using various grades of sharpening stone. These stones are categorized as rough grain, medium fine grain and super fine grain. These terms relate to the coarseness of their grain. When you look under a microscope a sharpened edge is serrated like the teeth of a saw. If the blade is sharpened by a finer water stone, these serration become smaller. The finer the serrations, the sharpen the edge and the longer it will stay sharp.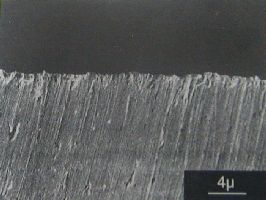 The photo: The edge is sharpened No8000 of waterstone.


So, which grain of water stone should you use in the final fine sharpening process? This depends on the bladesmith and their technique. Most bladesmiths use a No.3000 or finer stone in the final process. However some bladesmiths say, "With our technique, medium fine water stone (about No.1400) is enough." Sharpening books sometimes say, "Sharpen with a No.6000 grit stone in the final process." You can even find No.12000 and No.30000 ultra super fine water stones in the store, but you don't have to use that for general kitchen knives. If you are a beginer, I recommend you use 2 stones. One rough stone (about No.350 - 600 grit) and one fine stone (about No.1000 - 2000 grit). Use finer stones when you have gained experience.



---
Copyright (C) Watanabe Blade. All Rights Reserved.